53.00€
43.13€
Save 19 %
Last lowest price:
38.65€ (+12%)
The lowest price of this product from the last 30 days before the current reduction.
| | |
| --- | --- |
| Product number: | ST68506.1 |
Choosing the right size for your tennis shoes is very important. Footwear affects the quality of...
more
How to choose the size of shoes
Choosing the right size for your tennis shoes is very important. Footwear affects the quality of our game, the way we move around the court, well-being and ultimately physical health. Tennis shoes should fit player's foot. They can't be too big, because the foot will move in the shoes and will cause scrapes. They also can't be too tight, as this will reduce the blood flow in your feet and there will be no adequate air exchange inside the shoes.
When choosing the size of tennis shoes, do not use universal size table, as they will be misleading. Each tennis shoe manufacturer has its own size chart. You will find such table in our shop, individual for each manufacturer, in the tab "Size tables".
So how do you measure your feet and adjust the size of your tennis shoes? Measurement is best done in the afternoon or evening. Then our feet are bigger. Also, remember that we should measure in sports socks, which we use most often when playing tennis.
How do I measure my foot?
Put a piece of paper on the floor and then stand on it with your foot. Do this while standing. Do not sit down, because you will not put enough weight on the foot and the measurement will be incorrect.
On a piece of paper, draw the outline of your foot.
On the received outline, draw a straight line, the ends of which will touch the furthest points and measure the distance (attached image - points A and B)
Repeat with the second foot.
Compare the resulting lengths and select a bigger result.
Add about 0,5 cm to the result. New result will be the size of the insert. Find this value in the size table and find proper shoe size. In Poland, we mostly use the size defined in the EU nomenclature.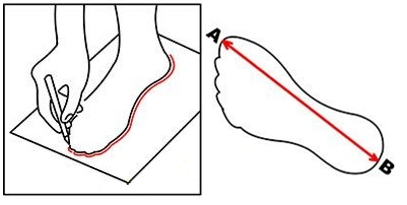 Remember, regardless of whether you have chosen the size of the shoes well or decided that you would like a different model, you can always return them. Within 30 days you can make a return and choose a model that will be more suited to your requirements.
Insole size table - Sidas Size XS S M L XL...
more
Insole size table - Sidas
| | | | | | | |
| --- | --- | --- | --- | --- | --- | --- |
| Size | XS | S | M | L | XL | XXL |
| EU | 35-36 | 37-38 | 39-41 | 42-43 | 44-45 | 46-48 |
| cm | 22-23 | 23,5-24,5 | 25-26,5 | 27-28 | 28,5-29,5 | 29,5-31 |